The Pine Cabin
Slow down surrounded by silence and endless panoramas on serene farmland. The Pine Cabin is a unique off grid hide-away. A two-person ecological retreat on a secluded spot with a view on the meadows and Lemelerberg. A cosy home to relax and recharge in the middle of nature at one of the most beautiful spots in Vechtdal Overijssel. Off grid, comfortable, and built with eco-friendly, natural materials. Wake up in this quiet place and enjoy the view from your bed. Every season is beautiful. Here the nights are dark and you can hear the call of the owl and drumming of a wood pecker. Spot the wildlife, and we invite you to leave a note in our guestbook. With a bit of luck you can see deer and rabbits, coming by.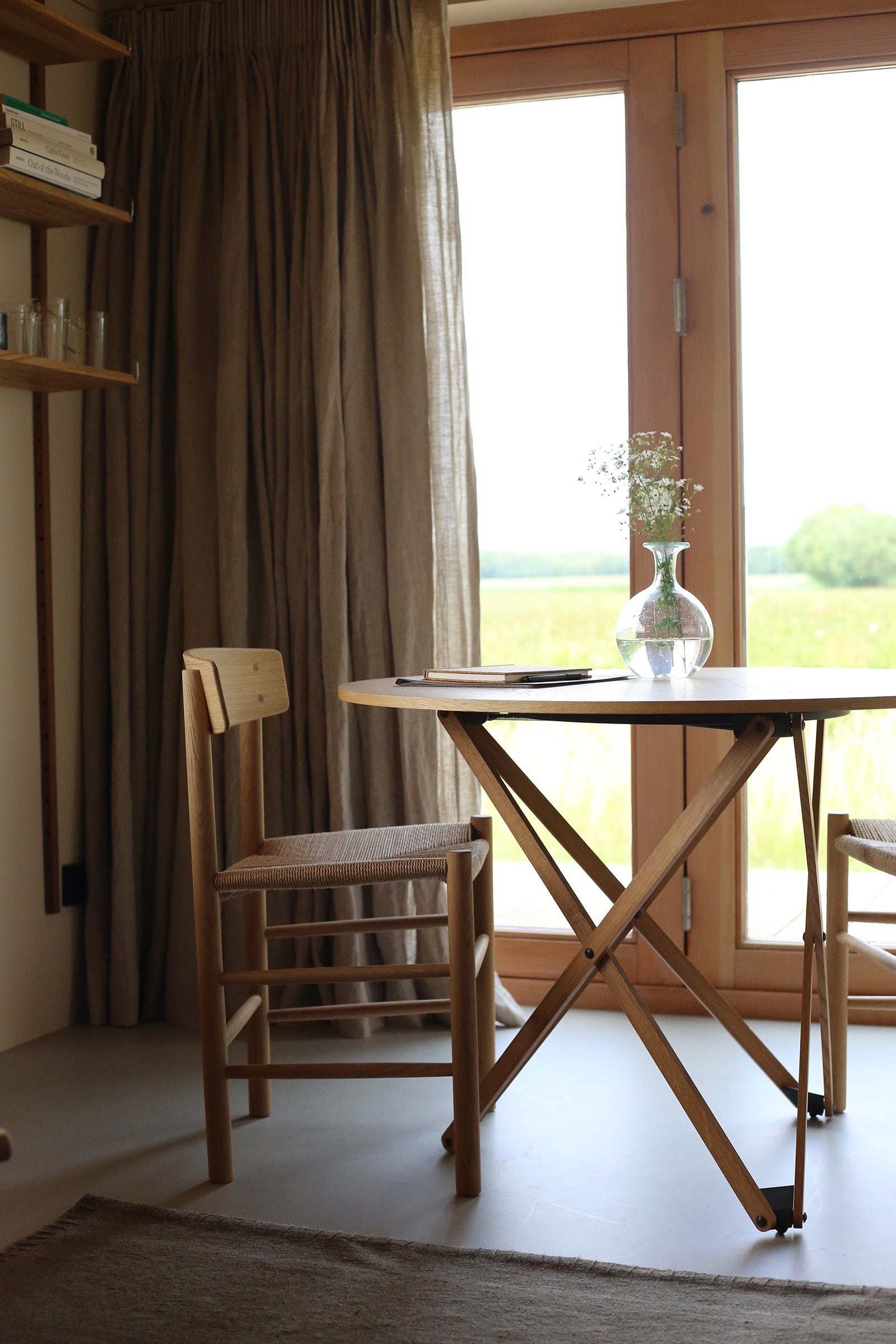 natural & off grid
The cabin is completely off grid thanks to the latest techniques and comfortably furnished with ecological, natural materials from the By Mölle collection. In the evening you dream away in a spacious double bed with soft By Mölle linens, an ecological duvet and natural mattress. The cabin is made from FSC certified Northern European pine wood and insulated with flax. The electricity for lighting and electric cooking is generated by solar panels and we have a private water system for a hot shower and toilet. The wastewater ends up in the septic tank so that it does not end up directly in nature. Through large windows at the front, the panoramic view outside comes fully inside. Open the doors and and hear the birds sing. Relax on the veranda, enjoy the panoramic view, take beautiful walks on the Lemelerberg, or take your mountain bike to explore one of the many tracks in the area. The cabin is located directly on the Pieterpad, and we leave you with nice tips and maps of the area.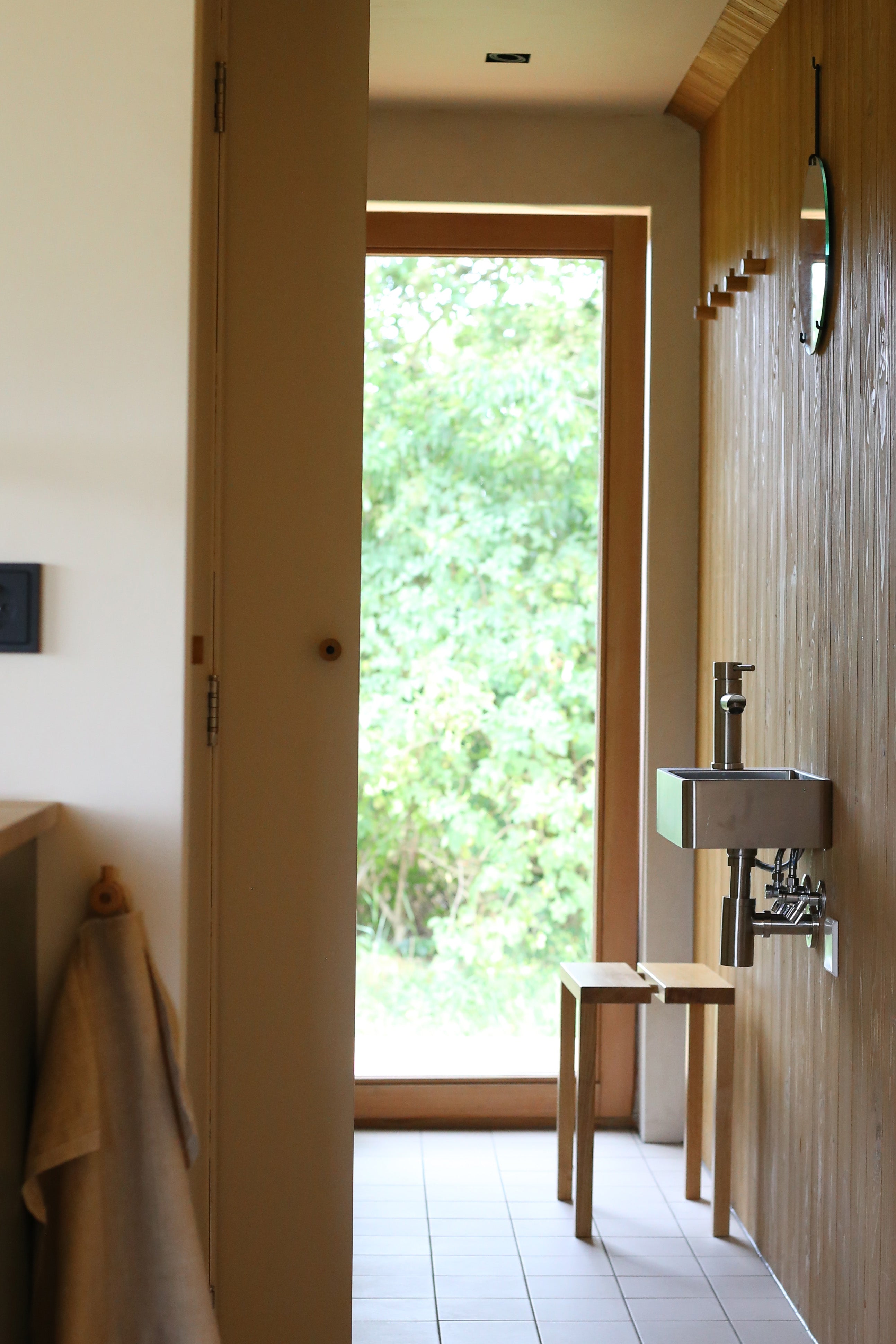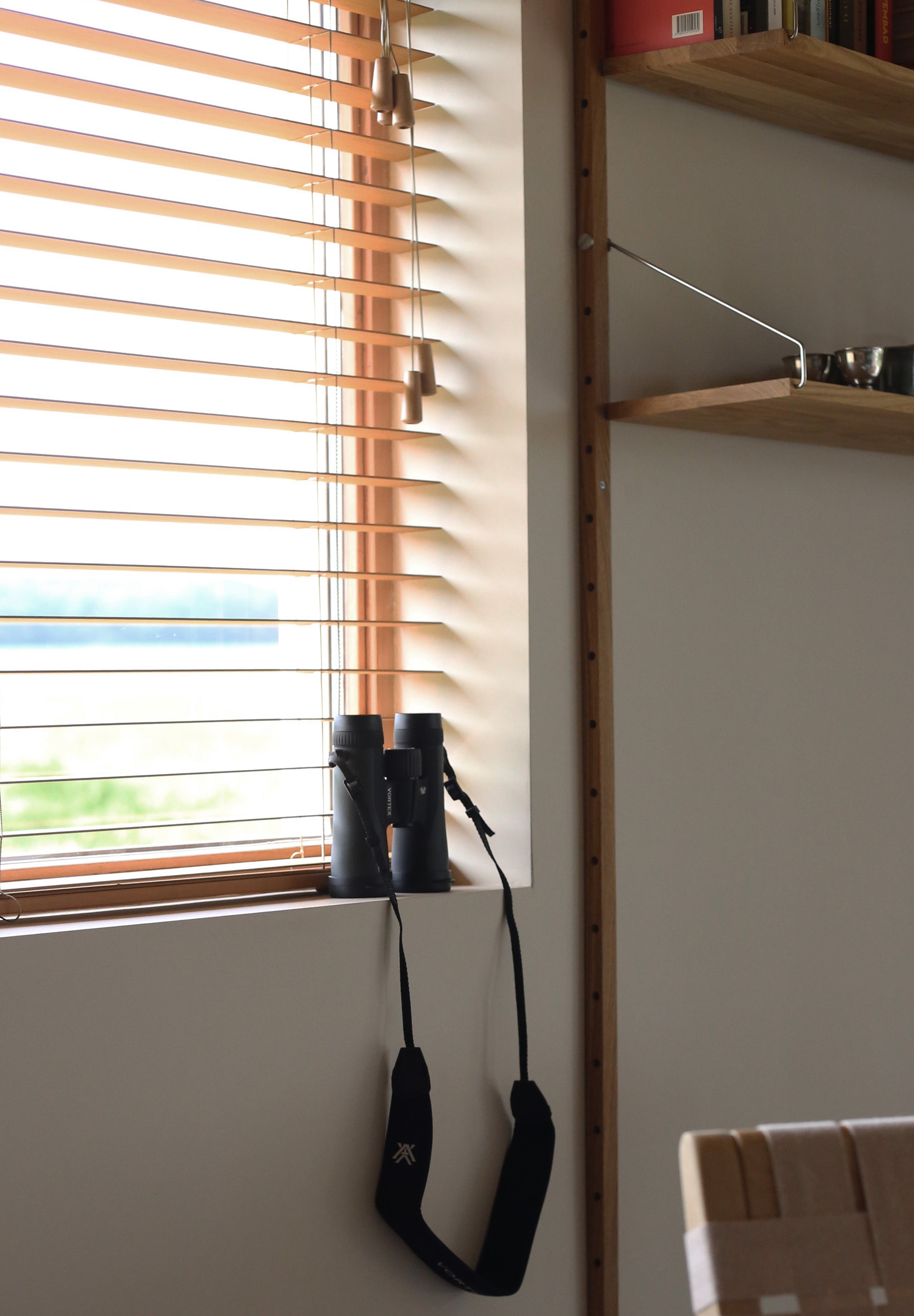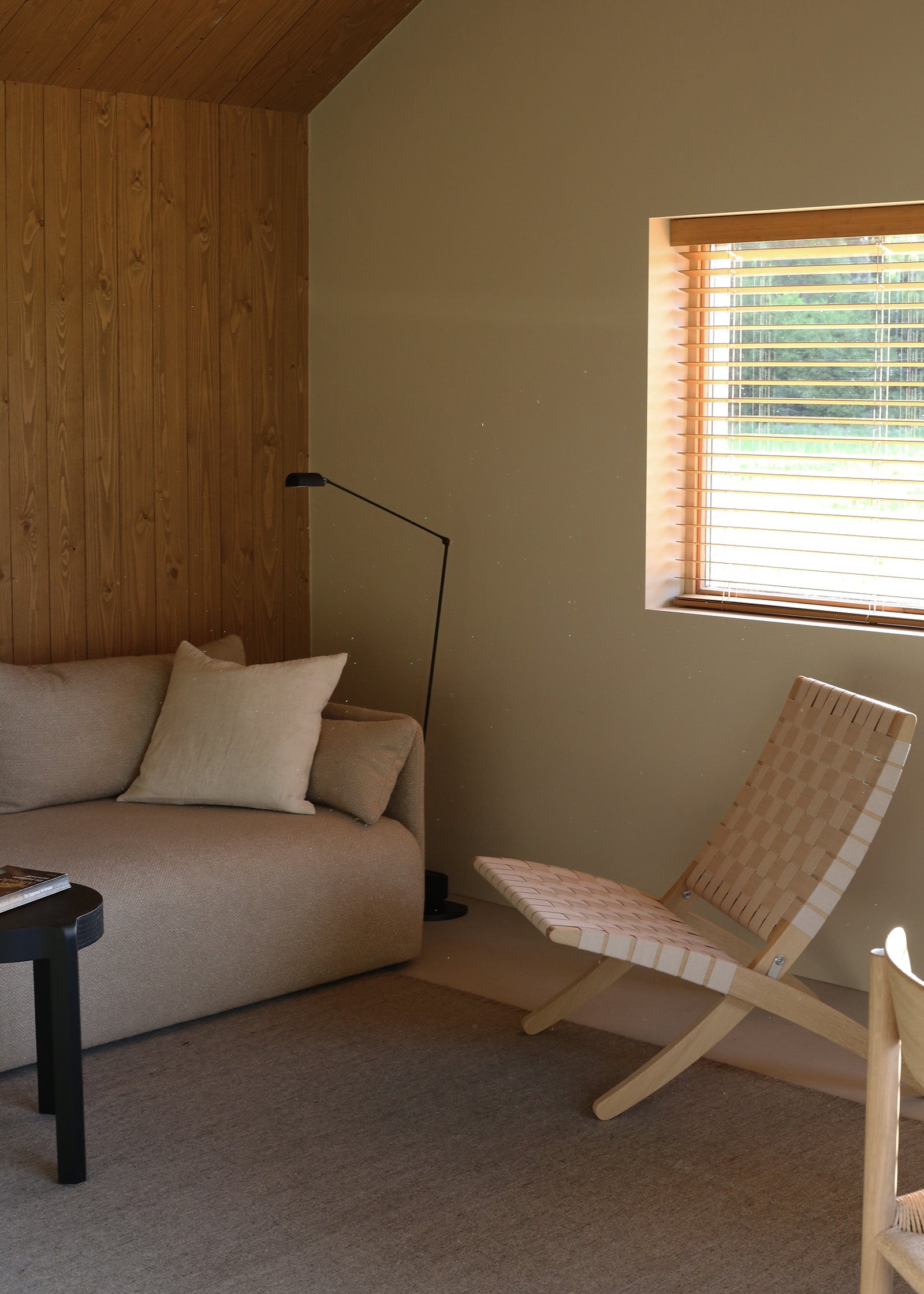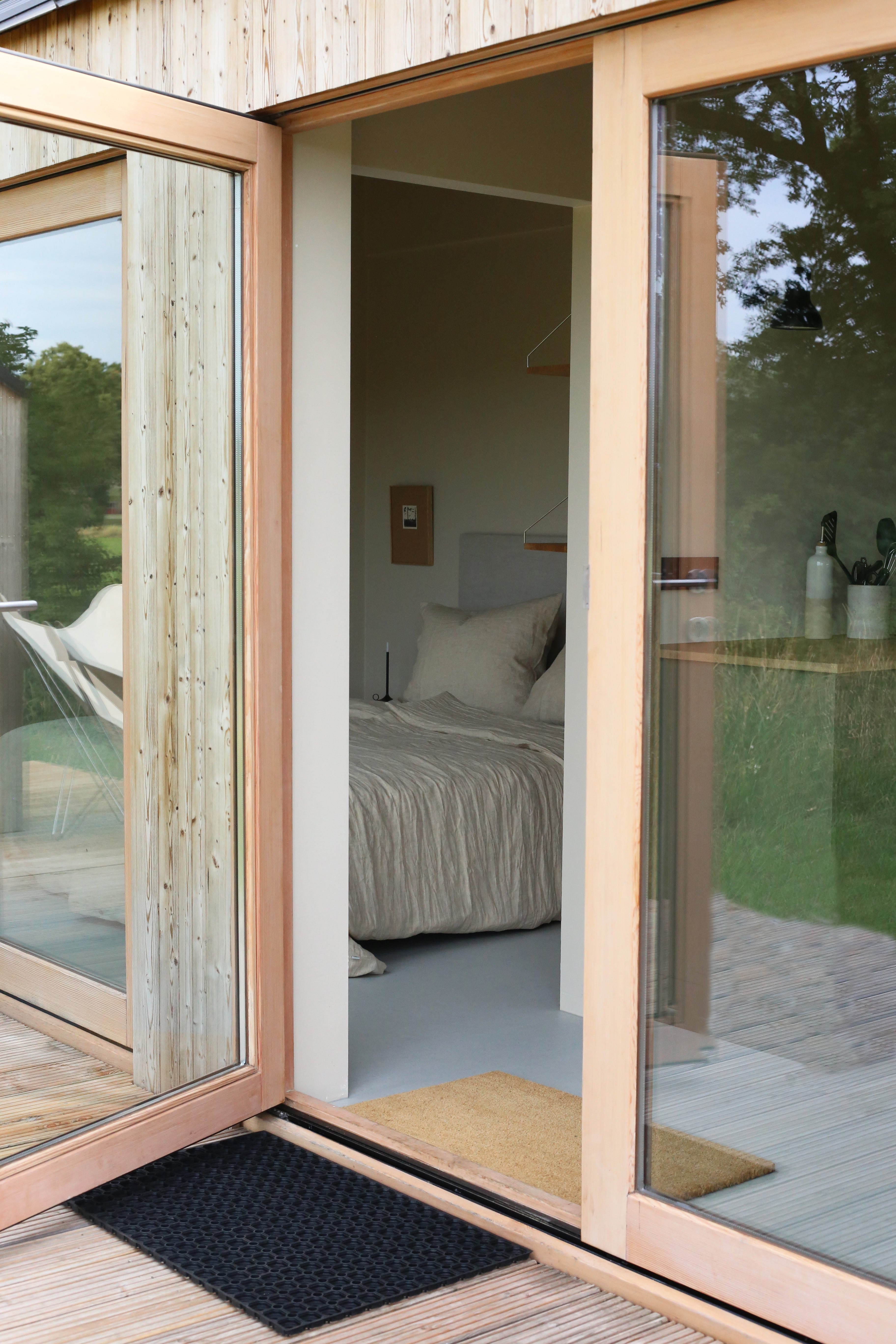 inside the cabin
- living room with dining area and view of fields and the Lemelerberg
- kitchen with cook top and refrigerator
- cosy lounge with sofa
- bedroom with a comfortable double bed and eco mattresses

- By Mölle linen bedding and ecological duvets and pillows
- toilet, shower and sink
- wood stove with fire wood
- a spacious veranda with terrace
the making of the eco design cabin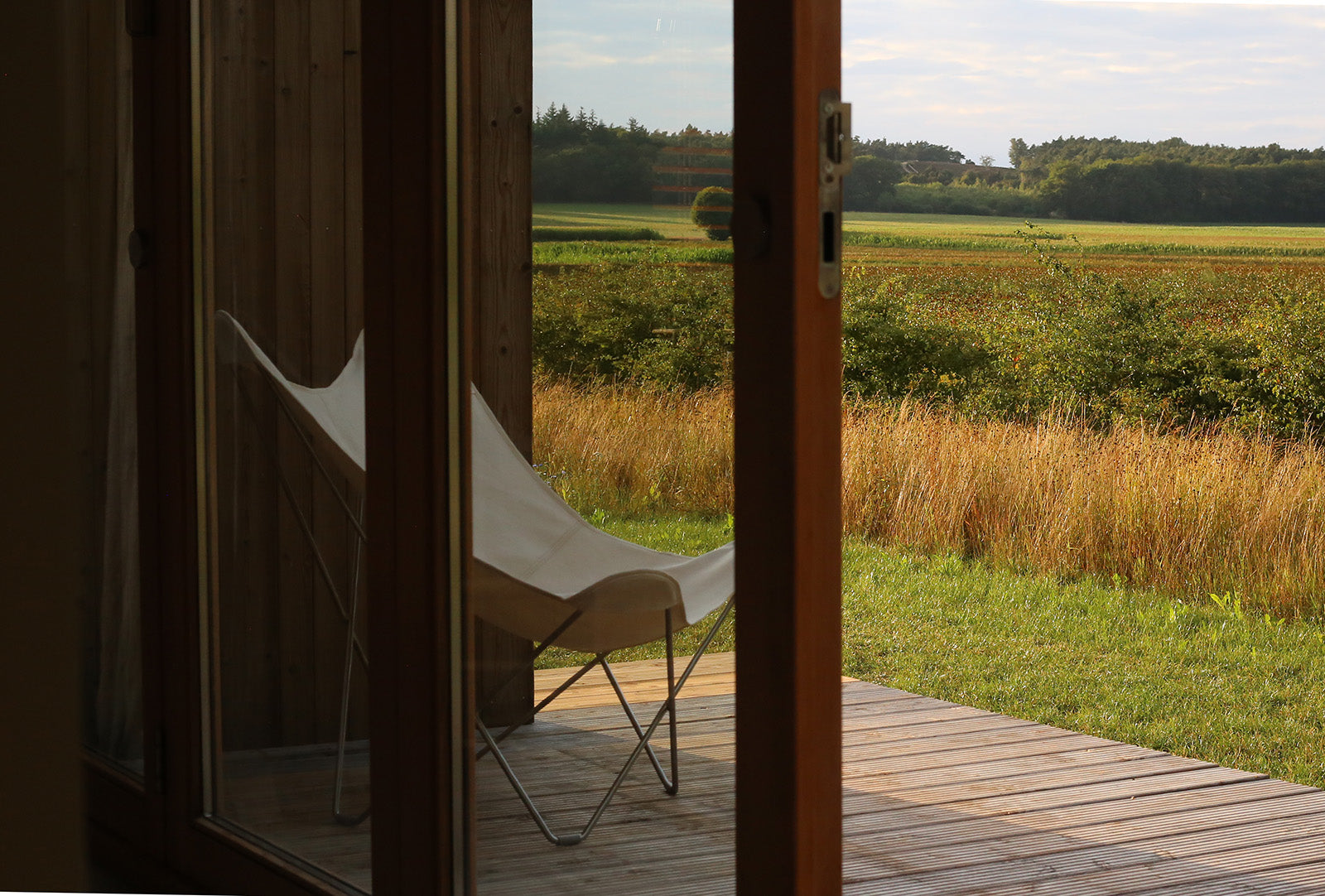 prices
- € 360 for a weekend (3 nights, Friday to Monday)
- € 480 for a midweek (4 nights, Monday to Friday)
- € 714 for a week (7 nights, Friday to Friday or Monday to Monday)
- bedlinen and cleaning costs € 75 per stay
- no charge for baby's up to 2 year. Please bring your own cod and bedlinen
- prices include tourist tax, wood for the stove, ecological household products, electricity via solar panels & gas
- pets are not allowed
nature all around
With approximately 1000 hectares, the Lemelerberg is the largest nature reserve of Landschap Overijssel and designated by Europe as Natura 2000. More than 150,000 years ago, an ice cap of 100 to 400 meters thick covered the northern half of our country. The glacier pushed everything in front of it. This created a hill with a height of 78 meters: the Lemelerberg, where you can enjoy beautiful views.
For part of the year, the heathland is grazed by a herd of about 200 sheep. It is a beautiful cycling and walking area. With a bit of luck you can see deer, sand lizard, polecat, pine marten, stoat, badger, honey buzzard, goshawk, woodlark, tree pipit, nightjar, buzzard and raven. In winter, the great gray shrike hibernates here. Poppy, margriet and cornflower bloom in the grasslands.

Hiking trails
There are several beautiful trails on the Lemelerberg:
-The Blue route (8 km)
-The drift sand route (southern slope 3.5 km)
-The Green route (2 km)

Slow living guide Vechtdal Overijssel
Discover in the Slow living guide Vechtdal Overijssel the variety of beautiful nature reserves, nice towns and delicious gastronomy. You can compile your own route. Walking or cycling is definitely the best way to get around. Along the way you stop at the nicest addresses where you want. 
thanks!
With your stay at the Pine Cabin, 't Witte Huis & de Lemelerberg Lodge we help to protect nature and national heritage in Overijssel, so we can all enjoy it. 
This project is supported by: Europees Landbouwfonds voor plattelandsontwikkeling: Europa investeert in zijn platteland.