Moebe is a Scandinavian design studio based on the island of Amager in Copenhagen. Moebe was founded in 2014 by Anders Thams and architects Nicholas Oldroyd and Martin De Neergaard Christens. They create fine designs to their most simple forms with thought and attention into every little detail. The designers make high quality pieces that not only work well and look great, but also encourage people to enjoy life with fewer distractions, and to join a growing movement of people who crave honesty, simplification and a need for 'less'. 
What do you mean with the philosophy of less?
"At Moebe we like to keep things simple, under the guise of 'the world is complicated enough'. It's something we think about a lot. Perhaps what we really need is less – less noise, less clutter, less waste. Room to breathe, and to appreciate the small everyday moments that give meaning to our lives. Since 2014 we have applied this philosophy to design. Our approach begins with rethinking the essence of a product. What is the core function, and how can we remove the unnecessary? How can we do more with less? It means putting our efforts into materials, details, and construction, so that each design element has a function and a purpose. Nothing left unthought, and nothing added without meaning. Designed to function and made to last. And it doesn't stop there. Over years of sketching and prototyping, we came up with the Moebe principles of good design that inform everything we do. Because a great design has to do more than just look good, naturally."
How does Moebe approach sustainability and the environment?
"Moebe works actively to create products in a way that is respectful to the earth. More than 40% of production is based in Denmark, and 95% of total production takes place in Europe. We believe in what we do and in the quality of our products. That's why all of our designs come with a 5-year warranty. All our wood is European, and we are proud to be a FSC® and PEFC® certified brand while at the same time working with the EU Ecolabel® to back up our commitment to sustainable sourcing and production. The packaging we use is as important to us as our designs, which is why all of our products arrive in cardboard-based packaging, with no lamination. This protects them through the rigors of shipping and can be easily recycled once its job is done."
"Repair. Don't replace is a Moebe-principle. Even great quality products break. Fortunately we design all of our products to be component based so that if a part breaks you can just replace that part. Not the whole product."
Can you tell us more about the design process, from idea to product?
"Our design process is simple. We get an idea; we sketch it up and we move to the workshop in the backyard of our office. This is where all prototypes are made. Our workshop allows us to experiment and spend hours and hours testing and precising. Our designs don't follow a specific trend. And they are made to last. We focus on materials, and we let them speak for themselves. We like to think that our designs are quite simple. Some would say they border on banality. We take that as a compliment. Everyday life is complex enough as it is. What you surround yourself with at home doesn't have to be."  
How do you get the perfect details?
"We come up with all designs in-house. Many of them start with a small – but significant – detail. Either a reinvention of a traditional construction. Or an entirely new way of combining two different materials. The solid wooden lists of our Frame are held together by an elastic band. This requires immense precision in the workshop. It's a question of tenths millimeters in order for it to be functional. The single piece of glass in our Wall Mirrors is easily separated from the lightweight metal wire. Apart from being a significant challenge in our design process, this also means you can easily repair our products by simply replacing a broken part. The longevity of a design is not only something we accomplish by choosing great quality materials, but also how we design and think about the full life cycle of our products when we do."
Can you tell us more about Copenhagen?
"Copenhagen is our home and daily source of inspiration. Most of our favorite areas and places can be found in the streets of Copenhagen. Some more known than others. As you may know, Copenhagen is known as one of the busiest bike cities in the world. Biking in Copenhagen is definitely the easiest and cheapest way to get around. So hop on a bike. Most hotels have bikes their guests can borrow, but if not, there are bike rental shops all over Copenhagen."

What are your favorite addresses in Copenhagen?
"In central Copenhagen, you will find places such as Torvehallerne, Kongens Have and Nyhavn. Places that you will find in most Copenhagen city guides. All very recommendable. But there are a few other places where we go more often and have a special relation to."
Toldboden
The neighbourhood around Bredgade is also where one of our partners Martin lives. During weekends Martin and his wife often like to start their day off with a good brunch. One of Copenhagen's best brunches, and one of their favourite, is at Restaurant Toldboden, located right down to the harbour overlooking the Opera. During summer you should sit outside in the sun chairs on the quayside and enjoy the view. If you're visiting in the colder period you can still enjoy the view from behind Toldboden's large windows. Be sure to book a table in advance, as it gets really busy during the weekends.
Toldboden - Nordre Toldbod 18-24 1259 København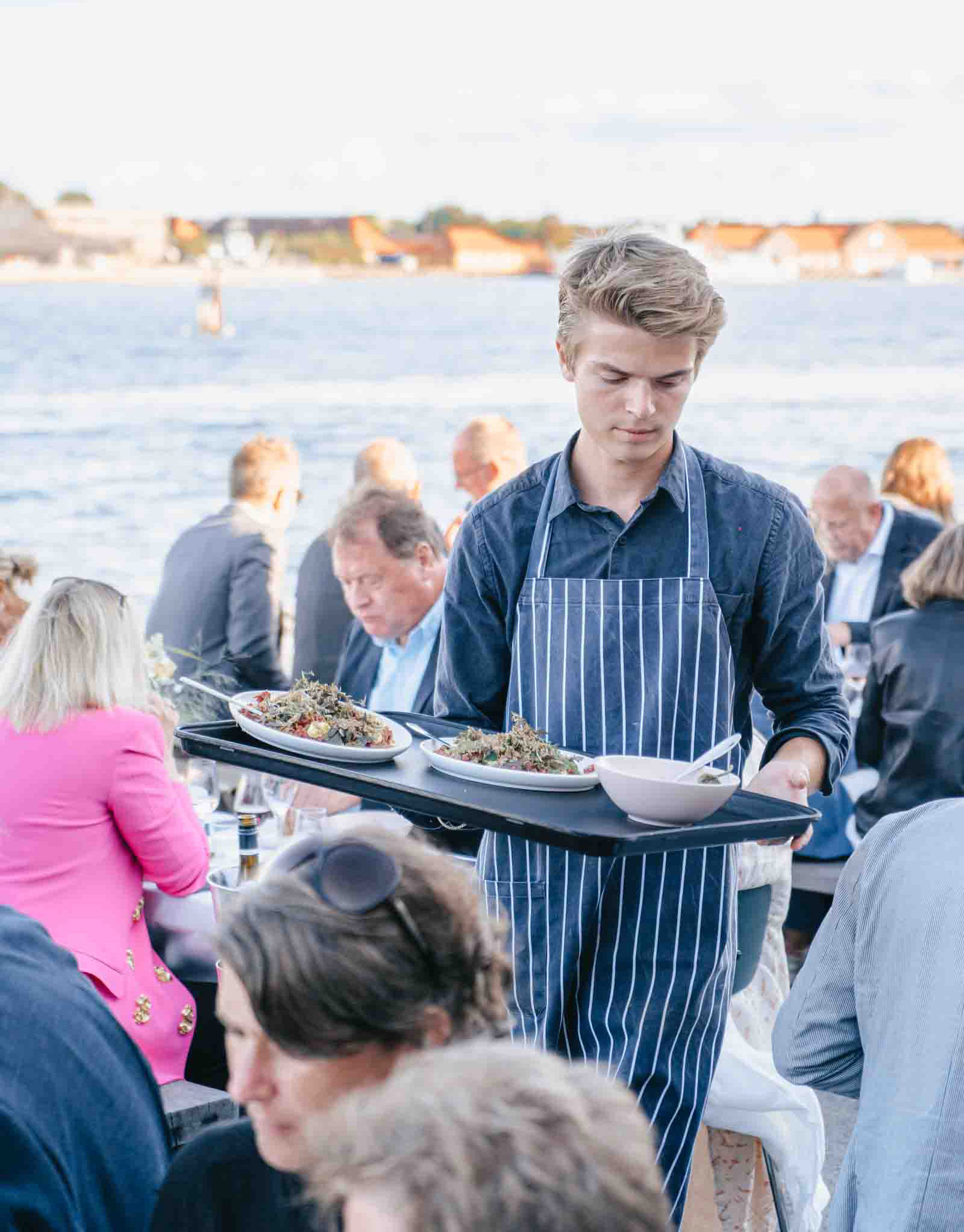 Zeleste
Finding small spots where you can escape from the busy city-life is something we really cherish. Zeleste's courtyard is one of these small sanctuaries in the middle of Copenhagen. The vibe is cosy and calm. The courtyard is open all year round. During summer you sit under the open sky, but when it gets cold the courtyard is roofed over and they fire up the outdoor fireplace. Go there for a short coffee break or lunch. The food is simple but delicious, with a focus on seasonal specialities.
Zeleste - Store Strandstræde 6 1255 København 

Design Museum Denmark
You could almost say that Designmuseum Denmark was our second meeting room. Just across the street from our old showroom, this was one of our favourite places to have meetings either outside in the museums garden or inside at Klint Café. The main attractions are however the various exhibitions. We definitely recommend the permanent exhibition 'The Danish Chair' where you literally go to chair-heaven. Before you leave you should also visit the museum shop with a carefully curated assortment of Danish and Scandinavian design, including some Moebe designs. 
Design Museum Denmark - Bredgade 68 DK-1260 København 

By Mölle is proud partner of Moebe. Discover the collection.